About
Production: Killing Eve
Props: Knives
Tarver Productions specialises in bespoke fabrications and replica props for use in film, television, commercials, theatres, museums, exhibitions and military training.
With over twenty years of experience within the prop making industry, Sophie Tarver and her team have perfected a series of versatile and reliable replication processes that can be applied to virtually any brief - regardless of volume. Safety for the actors and teams using our props is our number one concern and we work closely with SFX and stunts teams to ensure that all aspects of safety are considered in our production methods. We're based in Watford within easy reach of Leavesden, Pinewood, Elstree and London but frequently supply our goods to film sets around the world.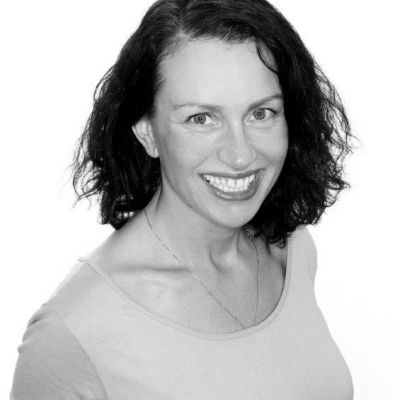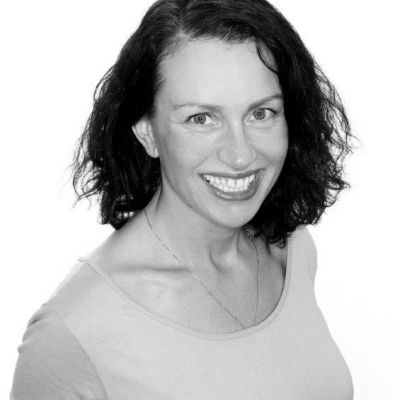 Sophie Tarver
Director
Find out more
Sophie Tarver,
Director
Sophie Tarver has been supplying props to film and TV for over 20 years, working on most of the best known productions and franchises.
Sophie started out as a casting technician and mould maker but now, with so many years' of experience working with designers, art directors, set decorators, armourers, stunt men and buyers, she is able to advise and coordinate in a vast variety of fields. Tarver Productions can offer most services under one roof, or at least within one phone call, so put her knowledge to the test and give us a call!
Sophie lives just a stone's throw from a beautifully restored art deco cinema. Here she can continue to indulge her passion for film during her own time and play "spot the prop."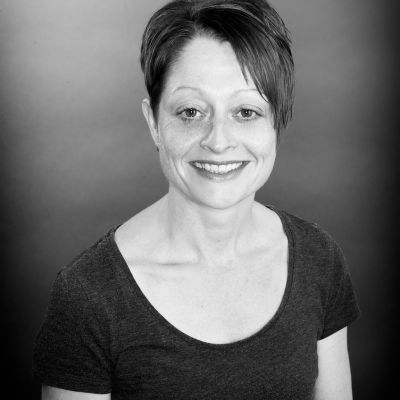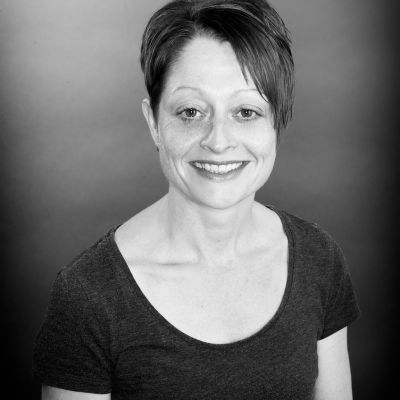 Zoe Wilde
Workshop Co-ordinator
Find out more
Zoe Wilde,
Workshop Co-ordinator
Zoe Wilde has been our Workshop Co-ordinator since 2016.
Nothing is booked in or leaves the Tarver Productions workshop without Zoe knowing about it. It is Zoe who warily opens the post box each morning to see which new jobs have arrived – will it be a knife or a brooch to mould? Or a dead fish?! Nothing surprises her.
Having started out on the casting floor, Zoe has a very good understanding of materials and processes and is able to advise over the phone the most efficient methods of going about your job. Zoe will usually be the voice at the end of the phone when you call, always ready and willing to go the extra mile and to ensure that all jobs are actioned ASAP! Friendly and professional, your request is in safe hands with this highly organised and energised member of the team.
Zoe continues to use her impeccable timings for salsa dancing and teaching on evenings and weekends.
Lucy Winterbottom
Marketing & Accounts Manager
Find out more
Lucy Winterbottom,
Marketing & Accounts Manager
Lucy brings a wealth of marketing and financial experience gained in the corporate world to Tarver Productions.
Since joining the company in 2015, Lucy has shared her valuable experience and brought her much needed skills to our busy office. She knows that introducing an element of process to our creative environment and keeping our accounts in order is vital to both Tarver Productions and our clients. Looking forward, Lucy is able to offer experience in enhancing and expanding the Tarver Productions brand as and when the time is right, so watch this space for news!
Lucy works part time in the office on Tuesdays, Wednesdays and Thursdays.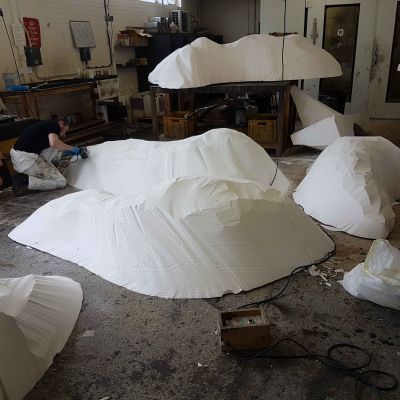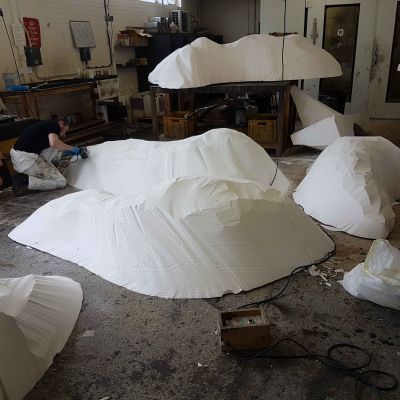 Sculpting Team
Find out more
Sculpting Team,
Our in-house and freelance sculptors work on a wide range of projects. From complete fully bespoke designs on behalf of our clients to amending and repairing existing items ready for moulding and casting.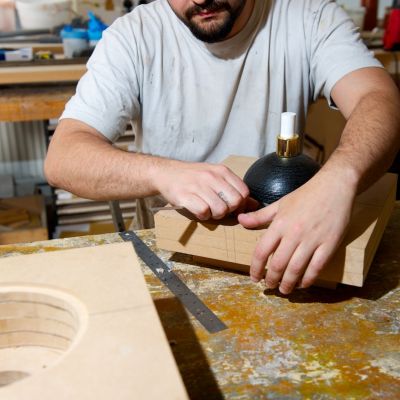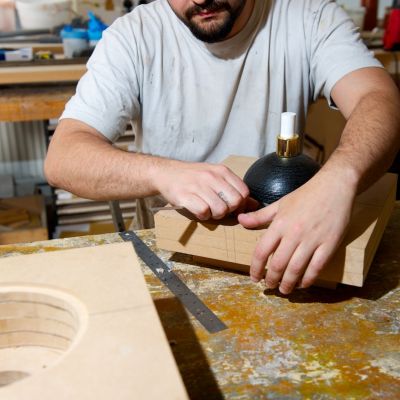 Moulding Team
Find out more
Moulding Team,
We have a minimum of two full time mould makers on staff at any one time plus additional team members to assist with making armatures. This is a skilled process whereby the utmost care must be taken with both the original item, so that it isn't damaged and can be used for filming, and the completed mould. Any mistakes at this stage will compromise the quality and realistic nature of the completed rubber casts.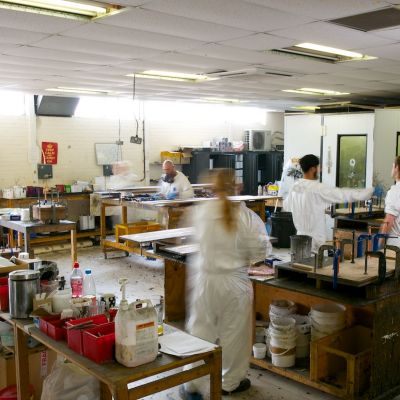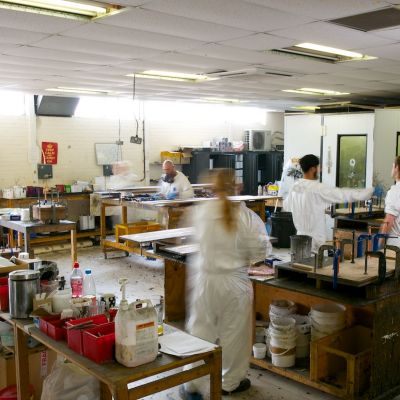 Casting Team
Find out more
Casting Team,
Behrouz Azzizi and his extremely busy team of four to eight people produce high volumes of replica rubber weaponry, sports equipment and household items every single day. Sophie Tarver can often also be found rolling up her sleeves on the casting floor to demonstrate new processes and materials to the team and acting as pace setter during high volume periods.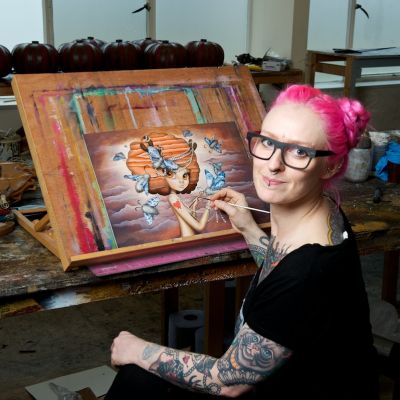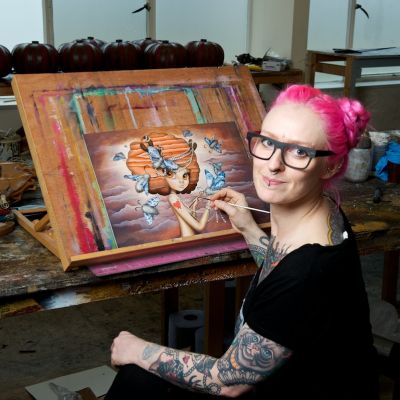 Painting Team
Find out more
Painting Team,
This is where the magic really happens. Tanya Warwick and her talented team of artists take single colour rubber replicas and transform them into identical copies of the originals. Their painting skills are so good that clients often can't tell the real and replica items apart until they lift them!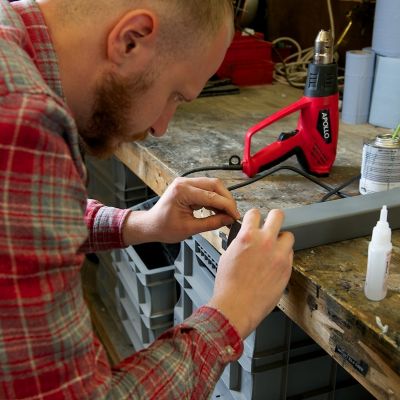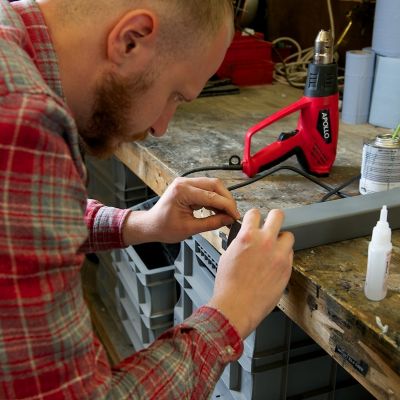 Scratch Build and Electronics Team
Find out more
Scratch Build and Electronics Team,
There is no typical day in the life of our team of scratch builders and model makers. Here they may be called upon to make a submarine door one day and a full set of bespoke horse armour the next.